Cynthia Li B.Sc(Hons), D.Ch.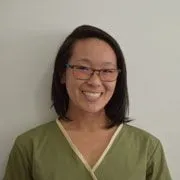 Cynthia Li B.Sc(Hons), D.Ch. graduated from the University of Toronto in 2010, and shortly after obtained her diploma in Chiropody from the Michener Institute in 2013. She specialized in Foot Mobilization Technique in 2014 and has been fixing one foot after another ever since. She started her career in Ottawa before returning to her hometown of Toronto much to our advantage!
An avid world traveller, Cynthia is always up for adventure, and is a master in the kitchen (her macaroons are heavenly!) She lives in High Park with her husband Jeremy and adorable son.
Extremely passionate for practicing using a holistic approach, she enjoys putting smiles on everyone's faces.