Alexandra Elliott, D.Ch.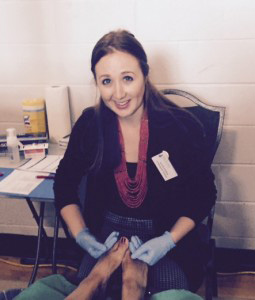 Alexandra Elliott graduated in 2016 from the Michener Institute for Applied Health Sciences with her diploma in Chiropody. Prior to that she completed a graduate program in Molecular Biology in which she studied influenza virus, but having decided that a life of work in a lab was not for her, she switched gears into chiropody and has never looked back.
Alexandra splits her time between several clinics in the Kitchener-Waterloo area. Alexandra also travels to Timmins ON once monthly where she works at Rainville Health. Her work in Northern Ontario has prompted an interest in addressing issues of access and improving healthcare to remote communities in Ontario, particularly with regards to diabetic education and wound care.
Alexandra is a member of the College of Chiropodists of Ontario, the Canadian Federation of Podiatric Medicine, and was recently elected to sit on the board of directors for the Ontario Society of Chiropodists. Alexandra is excited to get involved and help to increase awareness and promote the profession in Ontario.